What we offer
The Gatekeepers
Frontline staff are the gatekeepers for your business and everything they say and do helps or hurts your business. They add to – or they take away from – your company's reputation. And when staff hurt your business, it's often invisible…like a leaky pipe, silently dripping away your profits.
In Tough Times – You need Attitude
In a fiercely competitive environment, your people need to be enthusiastic and motivated, to communicate superbly and have a great attitude. They need to understand that they are active participants in the business – more customer focused and more skilled in listening to what customers really want. And they must clearly understand what they need to do to achieve sustainable results. Everyone on the payroll needs to perform better, everyone has a responsiblity to keep the ship afloat.Training can provide an opportunity for businesses to become more efficient and results orientated.
In Tough Times – You need Value (as well as quality)
In a fiercely competitive environment you need to ensure that your training budget is well spent and that you get not just a quality product but excellence value too.
With all Golden Apple Training Courses and Workshops you get the following Golden Apple 5 Point Guarantee
A professional, experienced training consultant who will work on a practical level with you to achieve your objectives. From first contact through to follow up evaluation.
Training courses for your staff which are interactive, engaging and enjoyable as as all good training should be
Pre and post contact with all participants to see they get their objectives met and to follow up on their progress
A flexible approach – training can be delived in weekly bite sized pieces to facilitate staffing needs or over a one or two day period – what ever suits you
Costs start at €450, complete (no hidden extras) for a halfday programme so you don't need to break the bank to re energise and upskill your staff
How we can help
With a range of training courses in sales, service and personal development, Golden Apple Training can help
Transform the attitudes and skills of your people so they are more engaged with the customer
Encourage people to be more focused on their core duties
Create awareness of the exciting role they can play in developing their own strengths and talents…and your business.
So, have you thought about the skills your people need to ensure your customers are truly valued?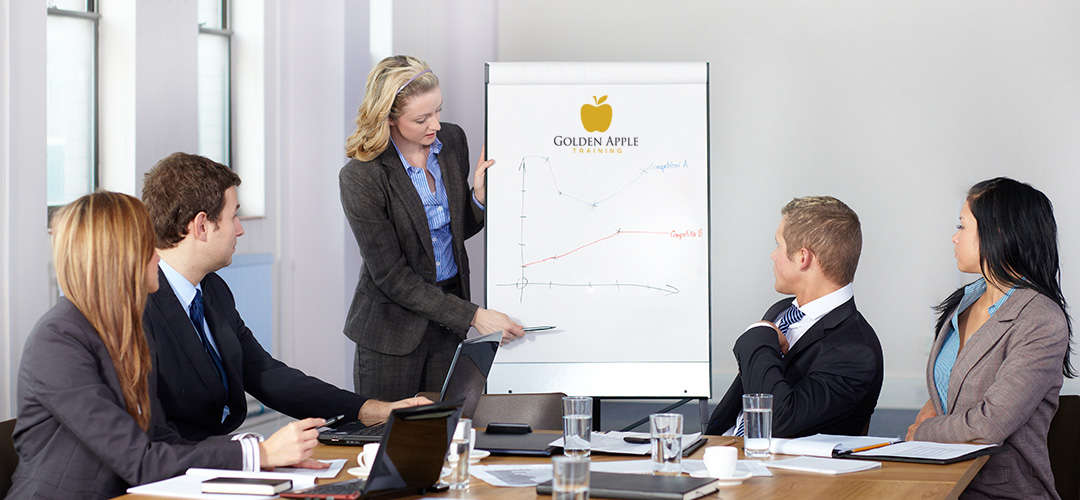 Golden Apple Training courses will help to ensure your staff develop the right skills, behaviours and attitude to drive your business forward. All courses are customised to suit your specific needs and situation
This month, we introduce our Golden Apple Course of the Month which is outlined below:
Golden Apple has introduced a new one to one service – about 3 hours in duration which takes candidates through planning a job-search strategy, CV and interview prep. They will learn how and where to look for work, how to create a winning CV and how to handle, with confidence, the toughest interview questions. Topics will include
Work Search – Plan of Action
CV Compilation & Cover Letters
Interview Pre – Preparation
Interview Presentation
Post Interview Follow Up
Cost per session €140
Email info@www.goldenappletraining.ie
Thank you for your message. It has been sent.